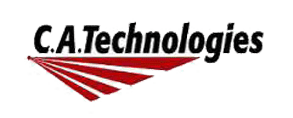 What is refinishing?
You keep your current cabinets with the current doors and drawer fronts. We apply a new, sprayed factory finish of any color of your choice. This is a good option if the cabinet doors are in good shape structurally and you like the door profile as well as the door overlay style. Refinishing may not be the most cost effective option if you have oak cabinets.
What is refacing?
When you order refacing, your old doors and drawer fronts will be replaced with brand new solid wood doors and drawer fronts with a sprayed, factory finish. Your cabinet boxes will be de-greased, sanded, primed and re-sprayed with the same factory lacquer finish as your new doors. We never use veneer of any type!
Why should I reface?
Here are the reasons why refacing your cabinets – keeping your existing cabinet boxes and replacing the doors/drawer fronts and possibly hardware only – can be the smartest thing to do:
save on labor by not spending on removing and disposing of your existing cabinet boxes and installing new cabinets
reduce your carbon footprint by saving your cabinet boxes as opposed to having new ones shipped for overseas
spend your budget where it counts and make a difference in style and/or functionality: doors, drawers, hardware, finish
support the local economy, all our doors and drawer fronts and custom made in Virginia
Refacing procedure
After discussing the different finishes, overlay options and deciding the door profile you want, we will measure your cabinets. After taking the measurements, we will take a 50% deposit as well.
Your new doors will be built according to the specifications in our shop in Winchester, VA.  Lead time is usually 2-3 weeks for the new doors to be built, finished and hinged, ready to be installed.
Once your new doors are ready, we will contact you to schedule a day that's convenient for you to refinish your cabinet boxes in your kitchen. This is a one day job for most kitchens. At the end of the day, after the cabinets have been refinished, we will install your new doors and drawer fronts and you can start enjoying your new kitchen.
Refinishing procedure
We will remove all the doors and drawer fronts from your cabinets and transport them to our shop where they will be prepped, primed and refinished with a new, sprayed, factory lacquer finish in the color of your choice. This usually takes 3-4 days. After your doors are ready, we will schedule a day to refinish your cabinet boxes in your kitchen. For most kitchens it is a one, full day procedure. At the end of the day, we will rehang your doors and reinstall all the hardware or install new hardware if necessary.
Is refinishing right for me?
If you check all the boxes below, refinishing would be the way to go:
You like your current doors style
Your doors are structurally sound
You have the original factory finish and it is fairly intact, just the not the color you want
You don't want to change the cabinet door overlay type
Your cabinets are not oak
You want a paint finish, not a stain finish
Your cabinets are not thermofoil
Is refacing right for me?
If the answer is yes to any of the options below, refacing would be your best option in almost every case.
You don't like your current doors style
Your doors are structurally weak, cracking, have loose joints
You don't have the original factory finish, the cabinets have been repainted already 
You want to upgrade from standard to full overlay
Your cabinets are oak
You want a stain finish
Your cabinets are thermofoil 
Your cabinet doors are laminate and the laminate is coming loose
Refacing vs buying new cabinets?
In the overwhelming majority of cases a refacing would make more sense than buying new cabinets. Here is why:
Refacing is less expensive, much better return on investment then buying and installing new cabinets.
Kitchen cabinets are nothing more than particle board or plywood boxes with doors attached to them or drawers installed in them using various hardware. Even after decades of use the boxes themselves are just as sound as when they were new. Tear and wear and age will only effect the moving parts, hinges, drawer slides, doors, drawers and the finish that will eventually fail in every case. All of which can be replaced with the refacing while keeping the cabinet boxes themselves intact. You can use the savings generated by not buying new boxes an avoiding the cost of installation to upgrade to better quality doors and hardware, the things that make all the difference.
Refacing is much faster and less intrusive and messy than replacing the cabinets.
Comparably priced new cabinets imported from overseas are usually much lower quality than cabinets that were built decades ago in the USA.
What type of doors do you offer?
We are a custom cabinet shop, we can build almost any type or shape cabinet doors made of wood or MDF. We don't build doors with veneer or thermofoil, all of our doors are finished with a sprayed paint or stain finish.
There are 3 basic type of cabinet doors. 
Slab
Recessed panel
Raised panel
Recessed or raised panel doors can have many different types of edge profiles. Slab doors usually have straight edges.
What door styles do you offer?
We are a custom cabinet shop, we can build almost any door style. By far the most popular door style is the shaker style which is a recessed panel style with square edges.
Do you do counter tops and backsplashes?
We at ProRefinish only work with cabinetry and we do finish carpentry, however we can refer our partners to install counter tops and back splashes as well as painting of walls, plumbing, electrical and other construction related projects.
Can you extend my island by adding a cabinet?
We can custom build and type of cabinetry, base cabinets, wall cabinets, pantries, sink base cabinets, drawer base cabinets, wine racks, etc. All we need is a description of the type of cabinet you want. We can also match the existing style of cabinets you currently have.
Can you build a new island?
We can custom build any type of islands according to specifications.
How durable is your finish?
Our finish is a high quality factory lacquer finish therefore it is as durable as you'd expect from any new cabinets on the market.
What type of finishes do you use?
We can apply any type of lacquer based sprayed factory finishes designed for kitchen cabinets. We do not use chalk paint, oil or latex paints.
There are two main categories of finishes: Painted and stained finishes.
Stain is a transparent finish that shows the wood grain,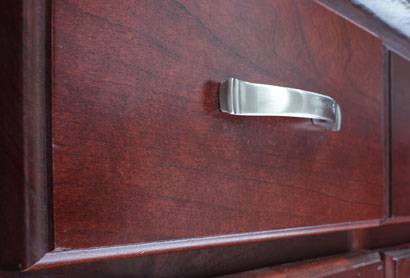 paint is a solid color that hides the wood grain.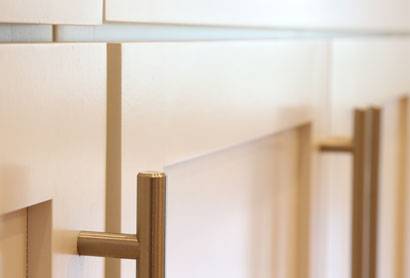 Both types of finishes can be distressed or glazed as well.
What is a lacquer finish?
Lacquer is the industry standard finish for kitchen cabinets. Lacquer and conversion varnishes are the only type of finishes that were designed specifically for kitchen cabinets. It is extremely durable, moisture, heat and chemically resistant to withstand all the abuse it will be subject to in a kitchen. 
Lacquers come in unlimited colors and in clear that is used over a stain finish that shows the wood grain. Virtually 100% of factory made cabinets have lacquer or conversion varnish finishes.
What colors can I choose?
You can use any color from any paint brand, we can match it. We can also match any existing color in your house or any color sample.
Do you use Benjamin Moore paints?
No, we only use ML Campbell lacquers and conversion varnishes that were designed for kitchen cabinets. Benjamin Moore does not manufacture lacquers. They claim that some of their latex paints can be used on cabinets. While it may be true, latex paints are never used to finish factory built and factory finished cabinets because lacquers are far superior than even the best latex paint.
However we can match any Benjamin Moore color.
What is glazing?
 The most common type of glazing is an accent color applied by hand into corners and crevices on a door profile. It's purpose is to give a feeling of depth to the surface. Glazing can only be applied to door profiles that have sufficiently deep crevices.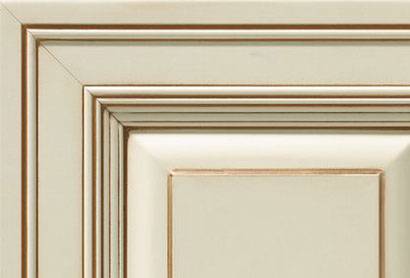 The less common type of glazing is when the accent colored glaze is applied to the entire surface than rubbed back by hand. This type of glazing gives the appearance of an aged finish therefor it's used when an antique look is desired.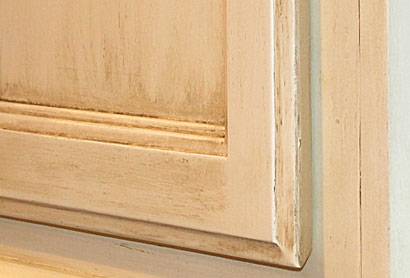 Both types of glazing requires an additional clear lacquer top coat to seal in the glaze and prevent it from being robbed off when cleaning the surface.
Can I have soft close hinges?
We can retrofit almost any type of existing doors with soft close hinges. (There are exceptions.) This is a very inexpensive way to upgrade and add value to your cabinets.
Can I have soft close drawers?
If your current drawers are not soft close, chances are that your drawer boxes can not be retrofitted with soft close drawer slides. In that case, we can build new, top of the line, solid maple, dovetailed drawer boxes with Blum soft close slides. (In some cases it is possible to just swap your current non soft close slides with soft close ones.)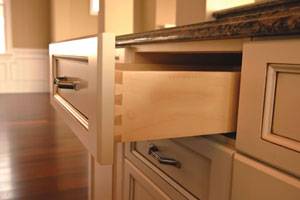 How about handles?
We can install new knobs and handles supplied by you for a small fee. We can also order new handles for you from our supplier. In this case, we will only charge you the wholesale price we are charged. This is usually about 50% of the retail price.
Check out their selection at www.berensonhardware.com