Oak is one of the most common type of wood used in building kitchen cabinets. Factory finished oak cabinets are always stained and there is a reason for that. Oak is very easy to stain. However the honey oak stained finish has been out of style for a long time, homeowners can't wait to get rid of them and have painted cabinets instead. On the other hand most of these older oak cabinets are very well built and would last a very long time, so it would be a shame to trash them. When homeowners ask cabinet professionals about having their oak cabinets painted, they are often told that "oak can't be painted".
The solution
The good news is that oak can be painted and it can be beautiful when done professionally. The problem with painting oak is that oak is a very open grainy type of wood. It can be very hard to fill the open grain with paint to give the surface a nice, smooth look and feel. Heavy body, high solids latex paint would fill the grain faster but latex paints are not suitable for painting kitchen cabinets. Paints that are formulated specifically for kitchen cabinets are lacquers that are very low in solids therefore they are not the best in filling any type of imperfections.
The solution is filling the grain first with some type of grain filler then prime and paint with a high quality lacquer or conversion varnish. This type of work requires using different materials that may or may not be compatible with each other therefore it's best left for a professional with experience using these materials.
Is it feasible?
Feasibility is an important factor, since it's only worthwhile to save these oak cabinet doors if refinishing them won't cost more than buying new doors! In most cases it is actually cheaper to build new, shaker style doors, since the door building process can be automated while cleaning old cabinet doors and filling the grain in oak is a very labor intense task.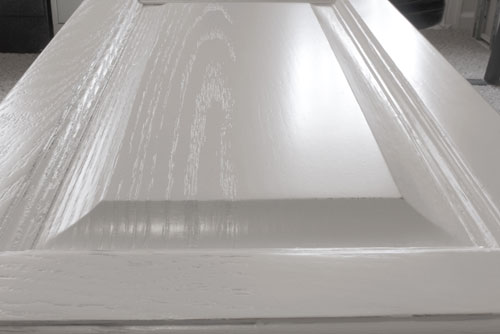 Painted oak cabinet door

This door was painted with the same lacquer but treated with grain filler on the right, untreated on the left. This job requires many coats of fillers, primers and hand sanding between each coat but everyone will love the result!
https://prorefinish.com/wp-content/uploads/2013/01/Finished1000px4web.jpg
334
500
Joe Henel
https://prorefinish.com/wp-content/uploads/2020/03/LogoWeb0320.jpg
Joe Henel
2015-04-03 23:37:32
2020-04-08 15:09:12
Painting Oak